Still Gullah: A Sea Island Sister Struggles to Preserve the Old Ways
by Cornelia Bailey
Essence Magazine
Feb. 1998
AT AGE 52 I AM THE LAST of a generation to be born, raised and schooled on Sapelo, a little Sea Island off the Georgia coast. I am one of only 74 people left on this island, all of us descendants of West Africans brought here to work the cotton, sugar, rice and tobacco plantations established in the 1800's. Today my life is a blend of the old and the new ways. I live on a dirt road in a wooden house that my husband and I built 24 years ago, and my 94-year-old papa still makes his own cast nets for fishing. I can drive a horse as well as a car. I can use a garden hoe as well as a tiller, and I can cook better on a woodstove than an electric one, which isn't all that surprising when you consider that we didn't get electricity on Sapelo until 1967.
To me, modern conveniences are good, but it was our old fashioned customs and ideas that built such a strong foundation for the people on Sapelo. Our lives were rich. We were a close knit, self-sufficient people. But now our old ways are dying, and though I relish many of the modern amenities that have come to our island, I feel a heavy sense of loss at the vanishing ways.
You might not notice the changes at first. On the surface, Sapelo seems much as it always was. White and red oleander trees, live oaks, cedars, myrtles and wide, tall Georgia pines form a thick green canopy over paved and unpaved roads. Everywhere you look on this 16,000-acre, 12-mile-long island, you see a profusion of green. Vivid greens, soft greens, forest greens–thick grass and foliage and every type of wildflower kissing the sides of old wooden houses with welcoming wraparound porches set here and there on the landscape. Deer and possum and raccoon still roam our backyards. And all over the island, the air is quiet, bathed in a hush you can see and feel, the kind of hush God must have intended when creating Sapelo.

But if you look beyond the wild natural beauty of the place, you might notice something different in the people. You will see the proud stance as well as the angry walk, the easy smile as well as the hard frown, the serenity of island life as well as the travails. All the contradictions in our lives are visible in the faces and postures of our people–the old people who don't want our ways to change and the young people who do. And yet, even the young ones understand our tradition and take pride in our heritage and the way it connects us to the past.
My own ancestors came to Sapelo in the 1790's, arriving with the French who fled Haiti with their slaves after the revolution that ended slavery there. Others of our ancestors may have come even before that. Captured by the Portuguese in Sierra Leone, they may have been brought to the Sea Islands as early as the mid-1600's to work on plantations that subsequently failed. The rest of us came after a White planter named Thomas Spalding bought the southern portion of the island in 1802 and imported enslaved Blacks from the West Indies and Golas from West Africa to work his fields. The name Gullah is derived from these Gola people.
After slavery ended, our ancestors stayed on, carving out a life that was rich in the culture of the Gola tribe. Today we make our baskets in much the same way that they still do in West Africa. We sing Mende songs and share superstitions and folklore that are astonishingly similar to those in Sierra Leone. But some of the old traditions have diminished. My parents' generation fished the Atlantic, hunted for wild game and planted peanuts, corn, watermelon, okra, pumpkin, beans, sweet potatoes and peas–anything that they could dry and preserve in jars.
That was how our families lived until the R.J. Reynolds Co. bought land for a family retreat here back in 1933. Then slowly life on Sapelo began to change. Most of our men went to work maintaining the grand Reynolds mansion. They had to rise before dawn to plant and plow their fields, and they fished by the light of the stars. But our old ways persisted for a long while. I can still smell the sweat of our men as they walked behind oxen, horses and mules, turning the soil of vegetable patches before heading off to do their salaried work. While they were gone, our women fished at Raccoon Bluff with a cane pole and drop line from a bateau (boat), trusting in the Lord because they sure couldn't swim. Then the men would go out at night, holding aloft flambeau (lighted torch) as they cast for alligators with a long pole and a giant hook.
We did everything for ourselves. I can still hear my grandmother's voice as she called my sister home from gathering firewood. And the fun we used to have when night fell! I remember, as a child, sitting in the corner come Friday or Saturday night and watching with delight as Papa and his friends drank moonshine and danced the Buzzard Lope, a pantomime of enslaved Africans in the fields, forbidden by overseers to attend to the fallen among them. The Buzzard Lope told a sad story, and yet our ancestors had taken their pain and turned it into something easier to tolerate–the rousing, hand-clapping, foot stomping rhythm of a dance. While Papa and his friends whirled and gestured and clapped in our living room, some of the other men made music by blowing combs and playing guitars. Others beat time by doing the soft shoe, the tap dance, each one trying to outdo the other's moves.
Sometimes the men would get like this on weeknights too. Even when Papa finished work late, some of the men would follow him home to a hot supper, then they'd make music and dance. And we kids would get out of bed just to watch them. The next day we'd go outside and try our best to imitate Papa's steps and the sound of that comb!
]Papa would sing to us once in a while around the house, but the truth is, he wasn't much on singing. So mostly he'd just sit and tell us stories while he built his homemade nets and fox traps or cooked hominy grits. Papa and Mama provided for us the best they could. We had alligator dishes along with pork greens some days. We had game birds and shore birds–wild turkey and gannet We had fish and turtle of all kinds. And deer, squirrel, rabbit, raccoon and possum. Some days Papa had to poach on the big plantation for food. Some days we feasted. Some days we had only the vegetables we raised in our fields.
But even on the lean days, life was simple and good. I remember Papa showing us how to take the bladder from a fresh-killed hog, roll it in warm ashes until it was thin, and then blow it up: our first balloon! Or he'd show us how to make a whistle from a spent [empty] seashell or whittle a toy to play with. Other times, he'd bring home a pocket full of kumquats from around the Reynolds mansion.
Those days of my childhood were the best, when Sapelo was home to some 600 people and was described as a par adise by the Black families that lived here. But where is that paradise now? First the Reynolds plantation closed down in 1970. After that the state moved in to establish a wildlife refuge on the Reynolds land, and the University of Georgia in Athens located a marine institute on the island. But even though the state-run wildlife refuge and the marine lab were hiring, employment fell off. More and more of our people began catching the three-times-daily ferry to the town of Meridian on the Georgia coast to find work. Soon our children began to attend school on the mainland as well, and when they finished high school, they found jobs there too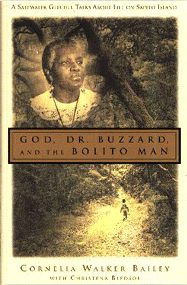 Bit by bit our communities dispersed, so that now there is only one main settlement here–Hog's Hummock in the south. Our churches have only a handful of worshipers left, and our organizations such as the Farmers Alliance are gone We grow few crops and hardly hunt game on the island anymore. Instead we catch the ferry to the mainland to do our supermarket and other shopping. There are no more weeknight meetings in local prayer houses, no more hot-supper evenings at which young people meet, and few boys and girls to giggle in the dark with only the stars and the crickets and a chorus of frogs for company
But we cannot let our culture just dwindle like our population. We have to tell our young people the old stories, show them our dances and teach them our crafts so that they will be able to pass the culture on to their children. That is why, since 1995, we have held an annual festival called Cultural Day on the third Saturday of September, in the hope that the people of Sapelo, living here and on the mainland, will bring their traditional baskets, their handmade nets and their family recipes and stories, and share Gullah culture with a new Generation. That is also why we welcome visitors to the island. They can rent mobile homes or stay in a Hog's Hummock guest house not far from the dock. Although there is no visitor's center here, state tourist centers on nearby St. Simons Island or in the towns of Meridian and Savannah can offer information on what to do in Sapelo. For starters, you might try an old-fashioned mule tour run by my own son, Maurice Bailey. Of course, plants and trees and wildlife abound, and those of us left on Sapelo enjoy demonstrating our local crafts and cooking.
In these ways, we do our best to preserve what life was like in the old days. We can never forget that we who remain are Sapelo Island, connected to one another by the spirit of the place and by the ancestors who made a home here. We are bound by the high tide and the rich earth, by the gossip and the dances, by smoked mullets and the taste of fresh-dug sweet potatoes cooked in hot ashes, and the buzzing of gnats on a cool, sea-smelling night.